floorcloths
Showing all 9 results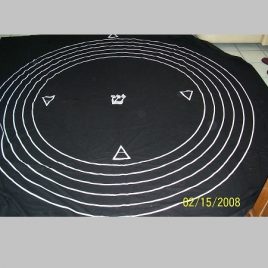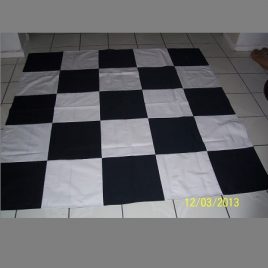 Checkerboard Floorcloth
Black and white checkerboard floorcloth to adorn the center of your Temple space. Choose from several sizes. Allow 3 to 4 weeks for this item to be made for you.
$

105.00 –

$

155.00
Select options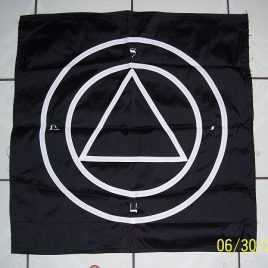 Elus Kohen Secondary Circle
Black silk cloth measuring approximately 24 inches square with double circle and central triangle appliqued in white. Outer circle is approximately 16 inches in diameter. Inner circle is approximately 13 inches in diameter. Each leg of the central triangle is approximately 10 inches. Hebrew letters LQHY in appropriate quarters. Suitable for the 22 Divine Names Operations.
$

55.00
Add to cart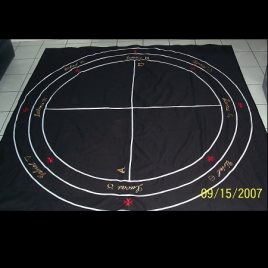 EMC Equinox Floorcloth
The perfect floorcloth for your operations. Outer circle measures a full 6' diameter. This piece is a complex combination of applique and embroidery. The lines and circles a painstakingly placed and stitched. Then a series of 18 separate embroideries are required to complete the piece. The photo barely does it justice. Allow 6 to 8 weeks for this item to be made for you.
$

495.00
Add to cart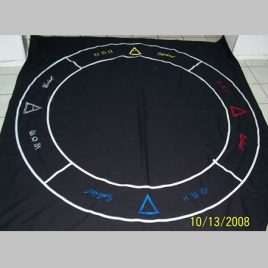 Magic Circle Floorcloth
A spectacular cloth! A full 6 ft outer circle.  White lines and circles are painstakingly stitched on to the background. Separate embroideries in each quadrant showing the elemental triangle, name of Archangel, and zodiacal sigils of each particular element. Allow approximately 8 weeks for this piece to be made for you.
$

425.00
Add to cart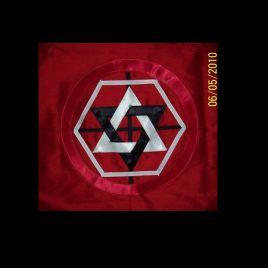 Martinist Operational Cloth
This Operational Cloth is made from a piece of red silk measuring approximately 25 inches square. The traditional Martinist pantacle measuring approximately 8 1/4 inches in diameter adorns the center.
$

95.00
Add to cart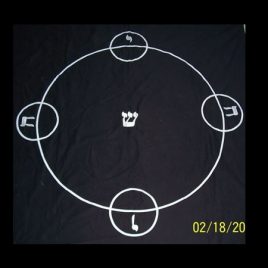 Operational Floorcloth
Operational Floorcloth is 6 ft square. Circles and lines are painstakingly stitched on the to background. Embroidery of the Hebrew Letters completes the piece. Available with either a black background with white lines and letters, or a white background with black lines and letters. Allow 4 to 6 weeks for this item to be made for you.
$

215.00
Select options